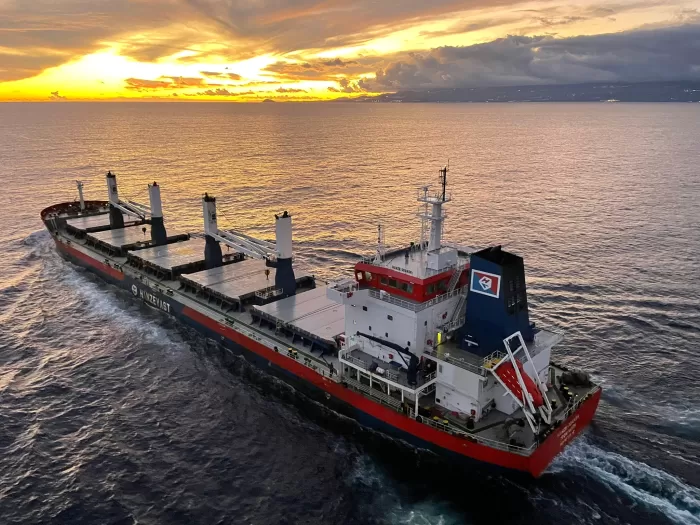 Hanzevast Shipping contracts Castor Marine for complete renewal of fleet IT-communications infrastructure
Bulk carrier operator and investor Hanzevast Shipping BV and Dutch maritime IT and SatCom infrastructure provider Castor Marine have completed the renewal of all onboard IT communications systems on Hanzevast's Hanze Gdansk, Hanze Gendt, Hanze Genua and Hanze Göteborg. All four ships are now fully up to par, with the crew being supported by Castor Marine's Service Desk.
Hanzevast Shipping operates 4 Handysize bulk carriers, each double-hulled, 35.000 DWT vessels with four 30-ton cranes and a Green Passport. In addition, Hanzevast has chartered the OSV Noordhoek Pathfinder to N-Sea Group. This is a max. 40 persons, 62m support and maintenance vessel for North Sea Offshore Wind installations. The master of the Hanze Gendt comments: "In a positive way, the system really does make a difference. Consider troubleshooting, for example: we now don't need an IT person actually having to come onboard to fix problems. That is handled remotely and saves a lot of time. I feel
we're in good hands with Castor Marine."
Peter Dekker, Director at Hanzevast Shipping and Hanzevast Capital, states: "At Hanzevast we do not just operate any vessels, we take a very close interest in their performance, both from a commercial and financial position and from a sustainable and crew welfare point of view. This means we want our vessels to always be well-maintained. When it became apparent that the existing onboard communications infrastructure was no longer fit for purpose, we quickly decided to seek options and alternatives. One of the reasons we chose Castor Marine was that they offer 24/7 remote monitoring and support services, which we feel is crucial. The more so because our vessels operate worldwide. The fact that the software can be monitored and updated remotely was a deciding factor."
Mark Olthuis, director at Castor Marine, says: "We are very pleased and grateful to welcome Hanzevast as our new client. And it has been an interesting process. For example, it took about 20 minutes from their first call to the moment I sat down in Hanzevast's HQ in Groningen. We always try to respond fast to new enquiries, but in this case we really made a flying start! Together we made a plan and I am pleased to say that the project has been successfully completed. We delivered and installed the full network, incl. servers, access points, switches, firewalls, Thin clients, printers and more. In addition, Hanzevast has subscribed to our support services, which means that the crew can literally call on us at any time in the knowledge we will help them to the best of our abilities."
Castor Marine serves a global portfolio of mainly shipping, offshore and yachting customers, for example in Australia, Dubai, Mexico, Nigeria, Panama, Scandinavia, Thailand and several European countries. The company assists its clients with strategic advice on their IT infrastructure and delivers the hardware and software for satellite communications systems and managed IT infrastructure and monitoring. In addition Castor marine provides the accompanying support services 247/365.