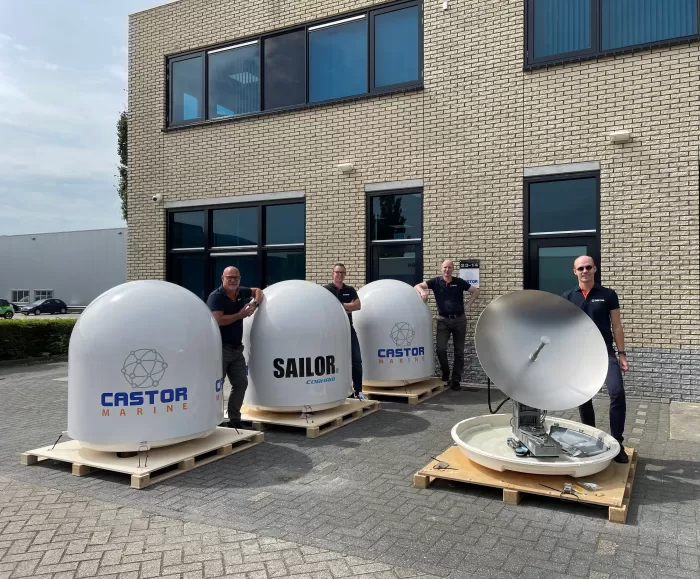 Castor Marine ships first Cobham Satcom Sailor 1000 TXRs
03 August 2021 | ROTTERDAM
Last week we tested the brand-new Sailor 1000 XTR in the Standard and High Power version. We are impressed how the already well-performing Sailor 900 has become even better.
The Sailor 1000 TXRs is a new 1-meter VSAT antenna system from Cobham SATCOM. The Sailor 1000 TXRs is based on the new one antenna platform, Sailor XTRTM. Antennas with different sizes like 85 cm will become available later this year.
The new SAILOR XTRTM platform is the ultimate antenna solution for modern maritime business needs. It delivers unmatched performance for satellite networks, both today and in the future. With the Rapid Deployment Technology, you can make sure to be up and running in no time and continue to simplify your business operations with automatic blocking zone detection and the new Secure Cobham-signed software that keeps the antenna protected from cyber attacks.
The antenna system has 80% fewer parts, which massively reduces the number of spare parts and there are more generic parts that can be used over the whole Sailor XTRTM product line. This will reduce the cost of ownership. Thanks to the improved software it is also easier to do remote diagnostics which results in quicker repairs.
Our first shipment of the Sailor 1000 XTR Standard and High Power antennas are already on their way to our customers.
For more information about the new antennas and how we can keep you connected, contact us directly or e-mail us at request@castormarine.com.